Low Fat, Healthy Recipes!
We've got some great Elk and Venison recipes for you to try out at home! Elk meat is a great low-fat, high protein alternative red meat!
Ginger Fried Elk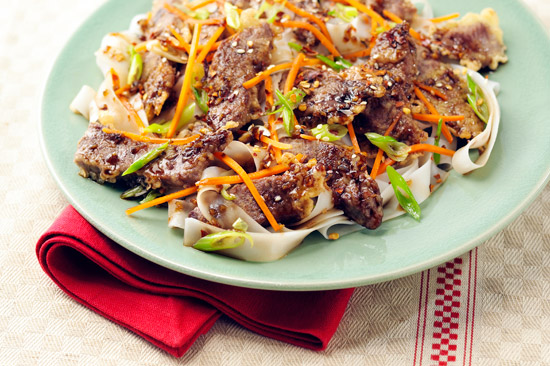 Serves three to four.
1 lb elk chuck (round or shoulder steak)
2 eggs , beaten
3/4 cup cornstarch
1/2 cup water
1/2 cup vegetable oil
Slice meat into narrow strips. Mix meat with beaten eggs. Dissolve cornstarch in water and mix with meat. Pour ample oil into the frying pan and heat to boilng hot but not smoking. Add meat to frying pan, 1/4 at a time. Separate with a fork and cook, stirring frequently for a few minutes until crisp. Remove, drain and set aside.
Sauce
2/3 cup grated carrots
2 tbsp chopped green onion
2 tbsp fresh finely chopped ginger root
4 cloves garlic - chopped or minced
2 tbsp cooking wine - red or white
3 tbsp Soya sauce
1/2 cup sugar
Crushed chillies (optional)
In the same frying pan, add carrots, green onions, ginger and garlic. Stir-fry over high heat. Add remaining ingredients and bring to boil. Add cooled elk strips and fry while stirring until warm. Taste and add more ginger or garlic, if needed. Mix well and serve over rice noodles.
Elk Denver Roast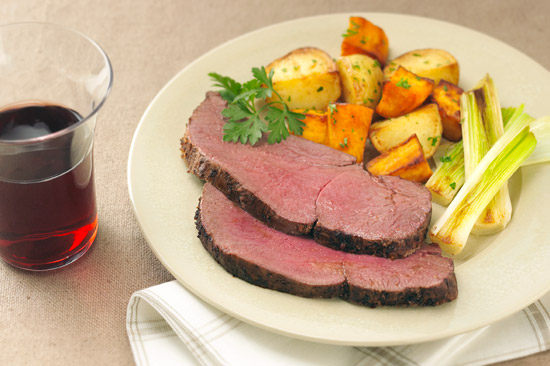 Serves four to six.
Marinade
1 cup blackberry merlot or red wine
1/4 cup oyster sauce
1/2 cup oil or melted butter
3 cloves crushed garlic
3-5 lbs Elk Denver Roast
Club House brand La Grill roasted garlic and peppers
Enough bacon to cover the roast
Mix marinade ingredients together. Inject marinating liquid into meat and then liberally coat with Club House brand La Grill roasted garlic and peppers (or spices of your choice). Rub marinade. Allow roast to rest a few hours.
Sear roast to seal juices in. Cover entire top of roast with strips of bacon to prevent meat from becoming dry. Cover roaster. Keep lots of marinating liquid in roaster pan. Cook at 325 ºF (163 ºC) for about 45 minutes. When internal temperature reaches 135 ºF (57 ºC), the meat should be medium rare. Allow meat to rest for 10 minutes before slicing. Continually add basting juices to meat after slicing. Do not allow meat to dry out.
Elk Medallions
Serves four.
Barbecued Elk Medallions with Cherry Sauce
4 elk medallions
Salt and Pepper
1/2 tsp prepared mustard
Sauce
1 cup red wine
2 tbsp cherry brandy
1 cup heavy cream
2 chopped shallots
2 minced garlic cloves
1/2 tsp minced rosemary
1/2 tsp salt
1/4 tsp black pepper
1/2 cup sweet cherry jam
Add the wine, cherry brandy, cream, shallots, garlic, rosemary, salt and pepper in a saucepan and bring to boil. Reduce the heat, and simmer the sauce for 30 minutes until it has reduced its volume by half and the shallots are tender. Pour the sauce into a blender and puree until smooth. Return to sauce pan and add jam. Bring back to boil and stir constantly for several minutes until thick.
Barbecue the medallions with salt, pepper and a thin layer of prepared mustard over high heat until medium rare. Remove from heat and serve with sauce, accompanied by your favourite vegetables.
Hearty Elk Stew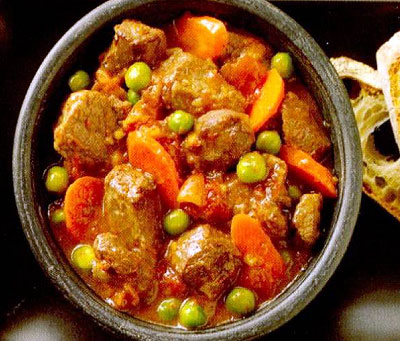 Serves six.
2 lbs Elk stew meat
3 tbsp flour
1 tsp salt
2 tbsp oil
2  1/2 cups boiling water
1 cup diced onions
1 chopped garlic clove
1 tsp sugar
1/2 tsp paprika
1 tbsp lemon juice
1 tbsp Worcestershire sauce
1 cup tomato juice
1 cup diced carrots
1 cup diced celery
1 cup diced potatoes
3/4 cup fresh peas
Thoroughly cover meat with flour and salt. Brown meat in a large oiled and preheated pot. Add boiling water, onion, garlic, sugar, paprika, lemon juice, Worcestershire sauce and tomato juice. Simmer 2 hours. Add more water if needed. Add vegetables and cook until tender. Thicken with flour and water, if needed. Add peas 5 – 10 minutes before serving.